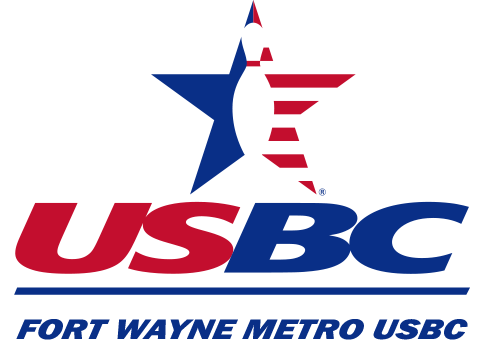 Tournament Rules
The Ft. Wayne Metro USBC Tournament is for bowlers that actually compete in the Ft. Wayne Metro USBC.
Eligibility – To be eligible to enter this tournament you:
Must have a Ft. Wayne Metro USBC Sanction Card or a Ft. Wayne Metro USBC associate card.
Must be currently competing in a Fort Wayne Metro USBC sanctioned league with a minimum 12 game average as of
January 1st.
Average – A bowler who does not have an acceptable average as calculated below will not be eligible to bowl in this tournament. Averages are for handicapping purposes only.
Must have a FWBA or FWWBA yearbook average from the previous year, minimum 21 games.
Must have a current 12 game average in a Fort Wayne Metro USBC sanctioned league as of January 1st, if no
yearbook average from previous season.
Bowlers who's average as of January 1st is 10 or more pins higher than their previous season average, 21 games
minimum, must declare highest average the 1st time bowling in tournament and current average will be used. It shall be
each bowlers responsibility to verify the accuracy of his/her average. Failure to use the proper average will disqualify
score if submitted average is lower than actual average thereby resulting in a lower classification or more handicap. Any
average declared at the tournament that is higher than the actual current 10 pins higher average will not be lowered.
Team Captain's Responsibility -The team captain will be responsible to make any change to the line-up no later than 48 hours prior to their scheduled bowling time. All team captains will check into the tournament office no later than one hour prior to the start of a shift and report any substitutions to the office. Team captains will be responsible to have subs
sanction card available to the office. No subs will be used without proper verification of membership in the Fort Wayne Metro USBC. Both Team and Minor events will be scheduled by the tournament manager. Special requests will be honored when both entries are submitted at the same time.
Tournament – Eligible bowlers may enter more than once in the 5 member team event. No more than 3 players can compete on the same team more than once. The first score bowled in team will be used in the calculation of ALL Events Bowlers can compete twice in Doubles and only once in Singles. No Singles only entries. This tournament is handicapped
at 90% from 210. All Events will be scratch and handicap divisions.
Definition of Division – Regular Division: 199 average and under….Team=999 & under, Dbls = 399 & under, Singles = 199 & under.
Open Division: 200 average and over….Team = 1000 & over, Dbls. = 400 & over, Singles = 200 & over.
Awards & Prizes – All prize money returned 100% in Prize List. Prize monies and trophies will be awarded in each of the two divisions; Open division 200 & up and Regular division 199 & under. Bowlers that have the highest "Actual" scores in Team, Doubles, & Singles will be awarded trophies but no extra prize money will be given other than what they earn in the open and regular division. Bowler/bowlers that win more than one title will be given one award with both titles listed showing the most prestigious title first. Any bowler who places first in All-Events, but has not entered and paid this extra fee, is eligible to receive only the Championship Award for the All-Events. He will receive no All-Events prize money. The ratio of handicap prizes shall not be less than on (1) prize to each five (5) entrants in team, doubles and singles. The ratio of one (1) prize to each ten (10) entrants in All-Events (actual pins & handicap)
Sponsorship – All sponsorship monies received by the Ft. Wayne Metro USBC will be used to supplement the prize fund.
Verification – Any bowler or bowlers with scores of 750 or better in singles, 1450 or better in doubles, 3450 or better in the team event must come to the tournament office and obtain an average affidavit to be verified by league secretary and returned to tournament office no later than one week from when the scores were bowled or scores may be disqualified.
Tournament Manager Authority – The tournament manager may adjust an entrant's average upward prior to bowling. Such adjustment may be appealed to the USBC within 15 days of the date of bowling or prior to the payment of prizes, whichever come first. If the entrant chooses not to bowl with the adjusted average, the entrant's entry fee shall be refunded.
Entry Fee's – The entry fees for each bowler will be $25.00 per person per event. An optional fee of $5.00 for All Events Handicap and $5.00 for Scratch. will be charged those wanting to compete in All Events. All entry fees are to accompany entry blank at time of submission. Any overages or shortages must be completed prior to the start of the tournament or entrants will be disqualified. No monies will be collected at the tournament office for entry fees.
Bowling Balls – Any new bowling balls manufactured and approved by USBC not available to all bowlers will not be allowed in the competition.
Rule 18 – While bowling in USBC competition, a bowling ball cannot:
   a. Have the surface altered by the use of an abrasive.
   b. Be cleaned with any liquid substance or cleaning agent.
   c. Have any foreign material on it including, but not limited to, powder, rosin, marker or paint.
ALL bowling balls so altered or cleaned MUST be removed from the competition.